The weekend starts with Great Cow Harbor 10K race number pickup at the William Brosnan School on Laurel Avenue, Friday evening.
The local Village population more than doubles Saturday morning with the running of the Great Cow Harbor 10-Kilometer Run that hosts 5,000 runners and twice as many spectators.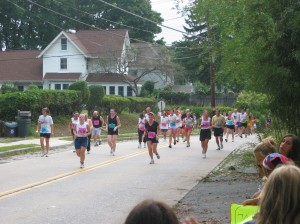 The Great Cow Harbor 10-Kilometer Run is one of the most prestigious foot races in the country and nationally ranked. Runner's World has named the Cow Harbor Race as one of the top 100 races in the USA.
The Cow Harbor festival is an event sponsor by the Incorporated Village of Northport. There are no corporate sponsors for Saturday evening or Sunday's events. The weekend activities and events following the race are organized by a small committee of volunteers recruited by the Cow Harbor Committee Chairman, who is appointed by the Village Board.
Click here to go to the Cow Harbor Day official site